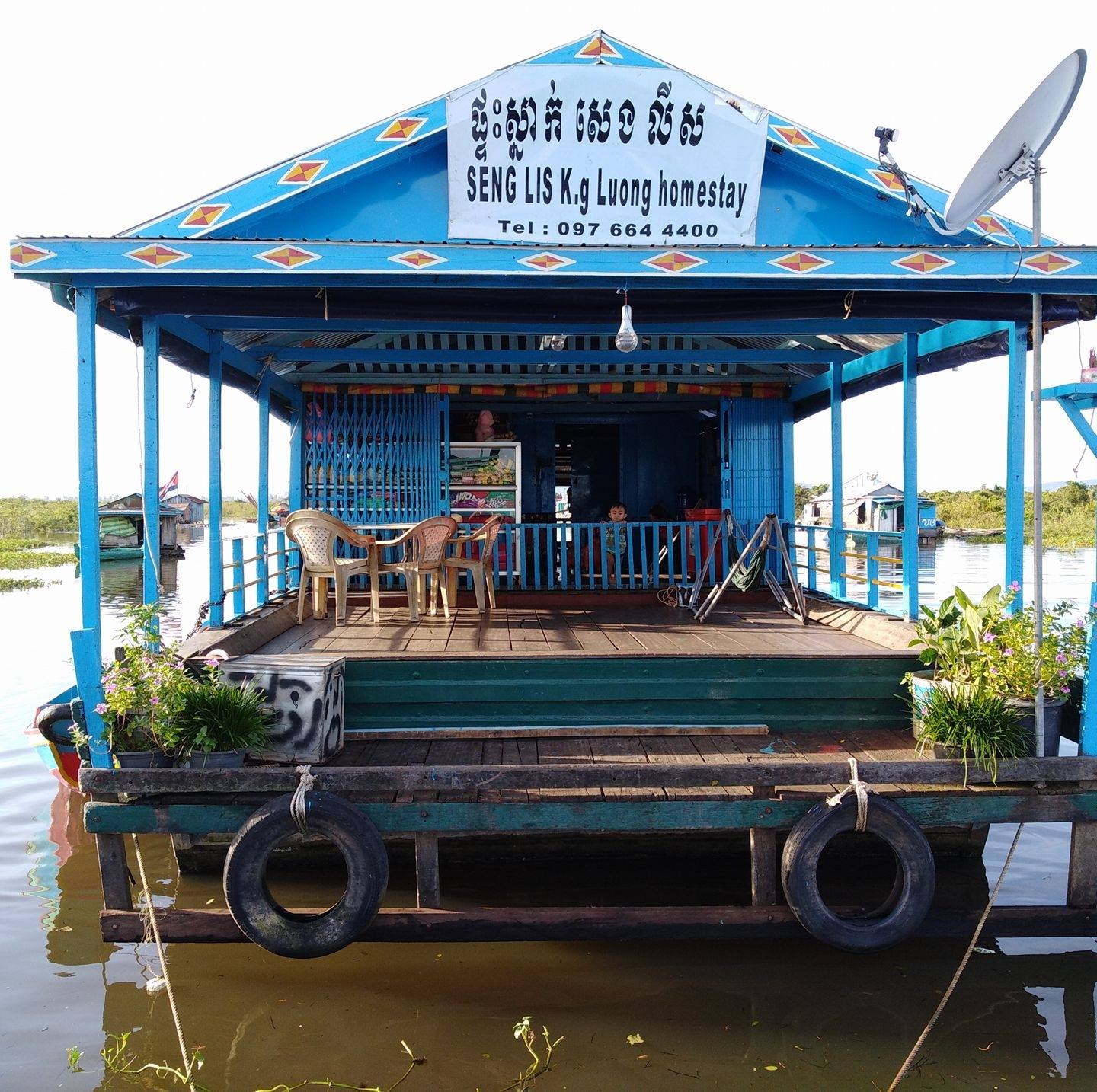 A floating village homestay is a great way for tourists to get an authentic glimpse into life on the Tonle Sap lake.
They can be found throughout the country and there are several floating village homestay options on the Tonle Sap lake in Siem Reap, Battambang, and Pursat provinces. Here is a brief list of homestays on the Tonle Sap Lake. We hope it helps.
Kompong Khleang – St. 63 Homestay
Located in the floating village of Kompong Khleang, St. 63 Homestay is a great option for travelers looking to see the largest village in Siem Reap. The accommodation is in a local, stilted home several meters above ground. The home features very comfortable amenities (like a rainfall shower and beds with mattresses) which are not typical for families, but the structure itself is very authentic and similar to other residents living in the village.
This floating village homestay is cheaper than other options that are typically booked and run by tour companies. For this homestay, you only pay for room and board (and arrange transportation and a boat ride on your own). Expect to pay around $15 USD per night. Transportation to the village by tuk-tuk is around $20 USD. A boat ride to the Tonle Sap Lake costs another $20 USD. So budget a little over $50 USD for a one night experience and lake tour.
Kompong Khleang is a great floating village to visit as it's the largest. It is also not as far as Prek Toal which is located in Battambang and requires 2 days to experience. If you are looking to see a real floating village on a tighter travel time frame this is probably your best floating village homestay option.
How to Book:
Prek-Toal – Prek Toal Homestay
This homestay is run by Hoksan, the owner of Prek Toal Tours. His family was born in the village and he operates a homestay for travelers in his home. The floating house is very authentic. While well furnished it is in no way lavish – you can expect to use a local toilet, for example. Even though the homestay is very authentic it does include amenities like mattresses, pillows, blankets and a fan (which is very important in the Cambodian heat).
Prek Toal is a great option if you have more than a day to spend on the Tonle Sap lake. It is quite far from Siem Reap city so make sure you are not in a rush. It is also worth visiting if you are interested in wildlife. That's because Prek Toal has the largest nature reserve and bird sanctuary which you won't find in other floating villages.
This homestay is significantly more expensive than other options because of transportation costs to and from the village. Expect to pay about 33 USD for one night (including 3 meals) at the home. Transportation to and from the village adds an additional 65 USD return. A local boat ride in the village costs 10 USD but another 25 USD if you want to visit the bird sanctuary (highly recommended). Altogether, budget a little more than $100 for this experience.
How to Book:
Kompong Luong – Seng Lis Homestay
Kompong Luong is a floating village on the opposite (south side) of the lake. It is home to several thousand residents who are primarily ethnic-Vietnamese. They came down to the Tonle Sap in the 1980's and have been earning a living on the lake. Residents speak Vietnamese at home but are also fluent in Khmer.
This floating village homestay is the most affordable in the region. Taking a boat through the village will only cost you 5 USD. The homestay charges 15 USD per night. While this does not include meals they are rather affordable. Altogether, you can budget around $30 USD per day.
The home itself features everything you need. It has a balcony where you can sit and enjoy meals and one large room where you and the family can sleep. Unlike Kompong Khleang, the home lacks stilts and actually floats most of the year. So it is a true, houseboat experience.
The major downside to the village is that getting to Kompong Luong is difficult. Unfortunately, you cannot go cross the lake in Cambodia safely. As a result, the easiest way to get there involves taking a bus from Siem Reap to Battambang. From there you transfer to another bus that goes to Krakor in Pursat province. After arriving in Krakor, you can find a local taxi to take you to the village.
To book the Seng Lis Homestay, contact the owner directly through Facebook. You will find a link to her page below as well as more information from a community based tourism website:
How to Book:
0