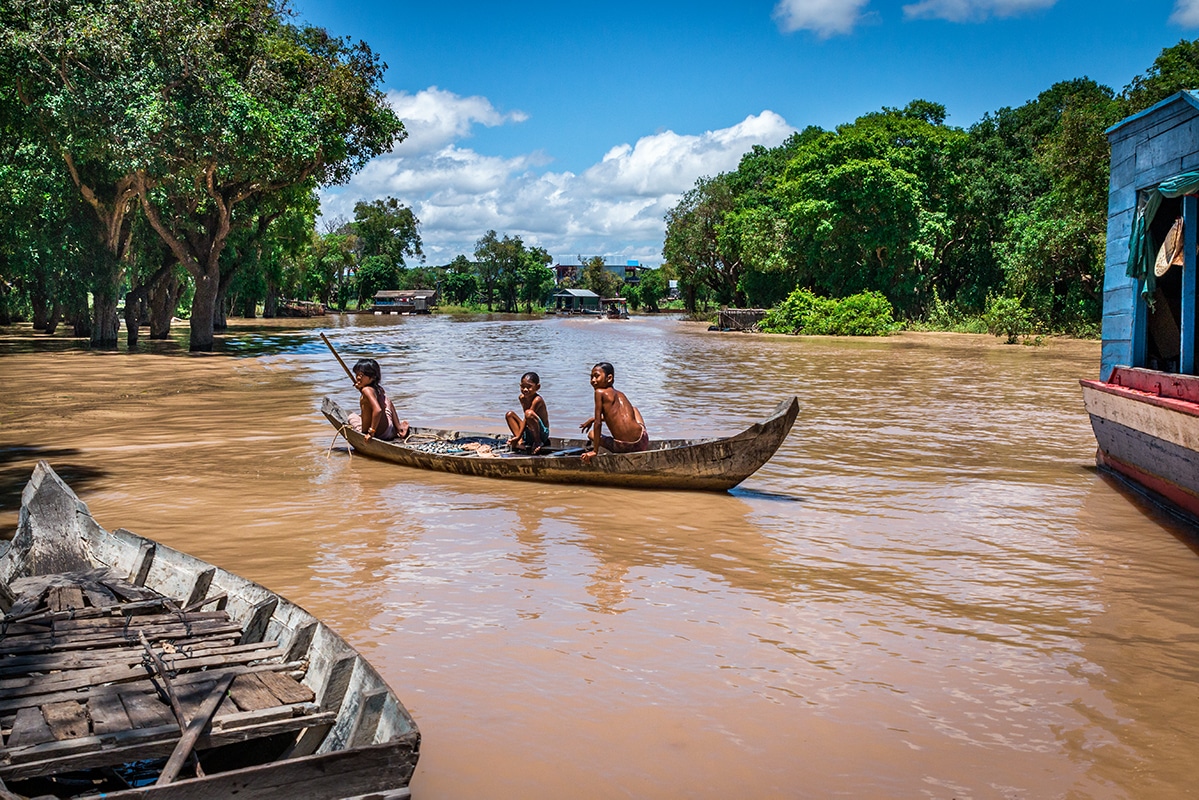 Believe it or not, the cheapest and safest way to visit a floating village is with a tour company. Learn why you actually save money traveling with a tour company on an affordable floating village tour.
Many people like to travel on their own when abroad. There are many benefits. You can plan the trip around your schedule and see what you want to see (while avoiding what is not interesting). It usually is also cheaper than joining private or group tours. 
While this logic is usually true, when you do the accounting, you'll realize you save money by joining a group to the floating villages. You also receive benefits that are very expensive when traveling on your own. 
Curious? See how The Tonle Sap Experience saves you money below:
TRANSPORTATION
If you travel on your own you first need to arrange your own transportation. None of the floating villages are close by except for Chong Prolay (which we never visit) . If traveling by tuk-tuk it will take you about one hour to reach Kompong Phluk. It can take one and a half to two hours to reach Kompong Khleang or Mechrey. Due to its distance, the price will usually be around $15.00 to Kompong Phluk and $20.00 or greater to the other villages.
BOAT TICKETS
When you arrive in the floating villages you will charged $20.00 per person for the boat. This tourism boat takes you through the floating villages and on to the Tonle Sap. The cost is consistent at all the floating villages (except Prek Toal which is more expensive). The ticket doesn't include extras like the floating forest at Kompong Phluk or the Bird Sanctuary at Mechrey. These supplements usually add another $5.00 – $10.00 to your expenses.
Here is where it gets interesting. Unlike Angkor Wat (where tickets always cost $37.00 USD) tour companies receive better deals. Tickets are cheaper Chong Kneas, Kompong Phluk, Kompong Khleang, and Mechrey. It depends on the tour company, time of year, size of the group but is almost always cheaper. These savings are then passed on to guests. That is why they can provide an affordable floating village tour.
TOUR GUIDES
When you get to a floating village you don't necessarily need a tour guide. The boat driver can take you alone but very few speak English. In Kompong Khleang no boat drivers speak English. While sightseeing is fine having a guided tour can enhance your experience. Local guides can share what life was like growing up, how it has changed, and what they foresee for the future. This information can enhance your experience. Tour guide prices range from $10.00 – $20.00 depending on the village and time of year you travel.
BREAKING IT DOWN
Now that we have an idea of pricing, let's give a practical example to help you understand how a group tour is the most affordable floating village tour:
Visiting the floating village and flooded forest of Kompong Phluk is a popular activity
. It can
be done
in a half day and allows you to see the countryside, floating village and forest, and the Tonle Sap Lake. 
If you travel on your own to Kompong Phluk you will usually take a tuk-tuk which costs about
$15.00
. You then need to buy a boat ticket which is
$20.00
. You then need to pay an
additional
$5.00
for a flooded forest canoe ride. For one person the price is at least
$40.00 USD
. Even if you share costs (with two people traveling together) you are still looking at a cost of
$65.00 USD.
That is not cheap! And it doesn't include a tour guide or food 🙁 
That is 30 – 80% cheaper and you have the satisfaction of knowing there will be no surprises along the way.
IN SUMMARY
The Siem Reap floating villages are a popular tourist destination in Cambodia. Tourists have a chance to see a unique way of life as residents adjust to the seasonal changes in the lake. But, when planning a trip to the floating village, it's important to remember that joining a group tour is most likely the cheapest way to see the village. The Tonle Sap Experience provides an affordable floating village tour. Please consider us as it ensures you will have a meaningful experience and save money.
For visitors who have been on a floating village tour: did you travel alone or with a group? Did you stay within or exceed your budget? Was there anything you regret?
2