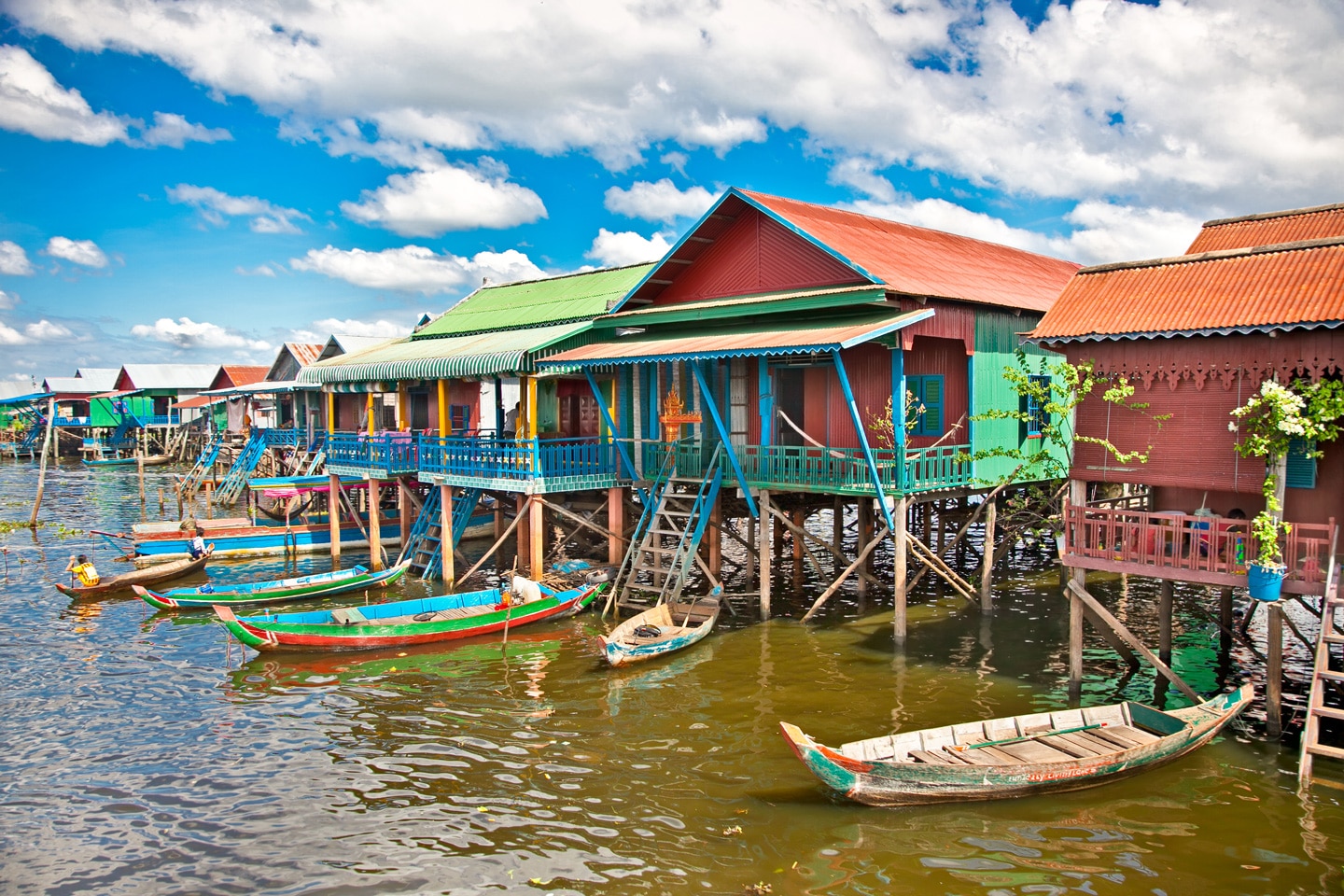 Thinking of visiting Kompong Phluk Floating Village. Read below to learn more about its history, location in Siem Reap, massive flooded forest, and boat ticket costs for tourists.
What is Kompong Phluk
Located in Siem Reap, Cambodia, Kompong Phluk (sometimes spelled Kampong Phluk) is a collection of three floating villages totaling somewhere between 2000 – 3000 residents. It is it located near the Tonle Sap Lake making it a convenient home for fishermen. Kompong Phluk has the largest mangrove forest in the region (called the flooded forest) as it is under water for part of the year. Kompong Phluk and the greater Tonle Sap lake is a UNESCO Biosphere reserve and contains unique plant species, fish, and animals, many of which find themselves endangered.
Kompong Phluk History
Before the Khmer Rouge, Kompong Phluk was not an organized village. Instead, it was a collection of fishermen and their families who lived near the lake. This community existed until the Khmer Rouge arrived in Siem Reap in 1975. These soldiers burned down floating village homes and moved families to central work sites. After the Khmer Rouge, families began returning to the area to resume their lives as fishermen.
The floating village was a difficult place to live in the 1980's due to a lack of essential services and Khmer Rouge remnants, but it started to improve in the 1990's when aid organizations began working in the village. They improved roads, built schools, taught fishing and conservation and other essential tasks. Starting in the 2000's residents worked to develop an ecotourism site to showcase the village's unique floating homes, vast mangrove forests, and Tonle Sap lake. Many residents now earn a living in the tourism economy.
Where is Kompong Phluk
Kompong Phluk is located 16km southeast from Siem Reap as the crow flies. It is about 31 km from Siem Reap city when traveling by road. The village is easy to reach. It merely involves heading east on Road 6 towards Phnom Penh and taking a right when you reach Bakong. You will find a sign on the right pointing out the turn. It can take anywhere from 45 minutes to one hour to reach depending on your mode of transportation, traffic and water levels. Kompong Phluk can be found on Google Maps here as well as in the image below.
Kompong Phluk Flooded Forest
Kompong Phluk is unique because it has the largest mangrove forest of the Siem Reap floating villages. The forest is approximately 6000 hectares and growing due to community conservation efforts which discourage logging. The village has a rowing boat cooperative that offers tours of the flooded forest during the rainy season. You will be taken there after you visit the village itself. Please note the flooded forest visit is optional but recommended.
Kompong Phluk Boat Price
There are two boats you can take in the village. The first boat takes tourists from the end of the road to the village itself. After visiting the village, school, and pagoda, it travels onwards to the Tonle Sap lake. This boat ticket costs USD 20 per person, and the return trip lasts about one hour.
The second boat is an optional rowboat or canoe that goes through the flooded forest. The boat ticket costs USD 5 per person, and the ride lasts about 20 – 30 minutes. This boat can be found just after the floating village but is before the Tonle Sap Lake. This boat is optional but recommended if you have time and money.
Kompong Phluk Tours
Are you interested in learning more about Kompong Phluk and experiencing life in the village and flooded forest firsthand? Join The Tonle Sap Experience on one of our community-based tours of the floating village today. We will take you up close and personal, providing unique sightseeing and photo opportunities, and our team can do it in a fun, educational and responsible way. The tour starts at just 28 USD per person and includes both your boat and flooded forest ticket (a 25 USD value). Private tours are also available upon request.
0