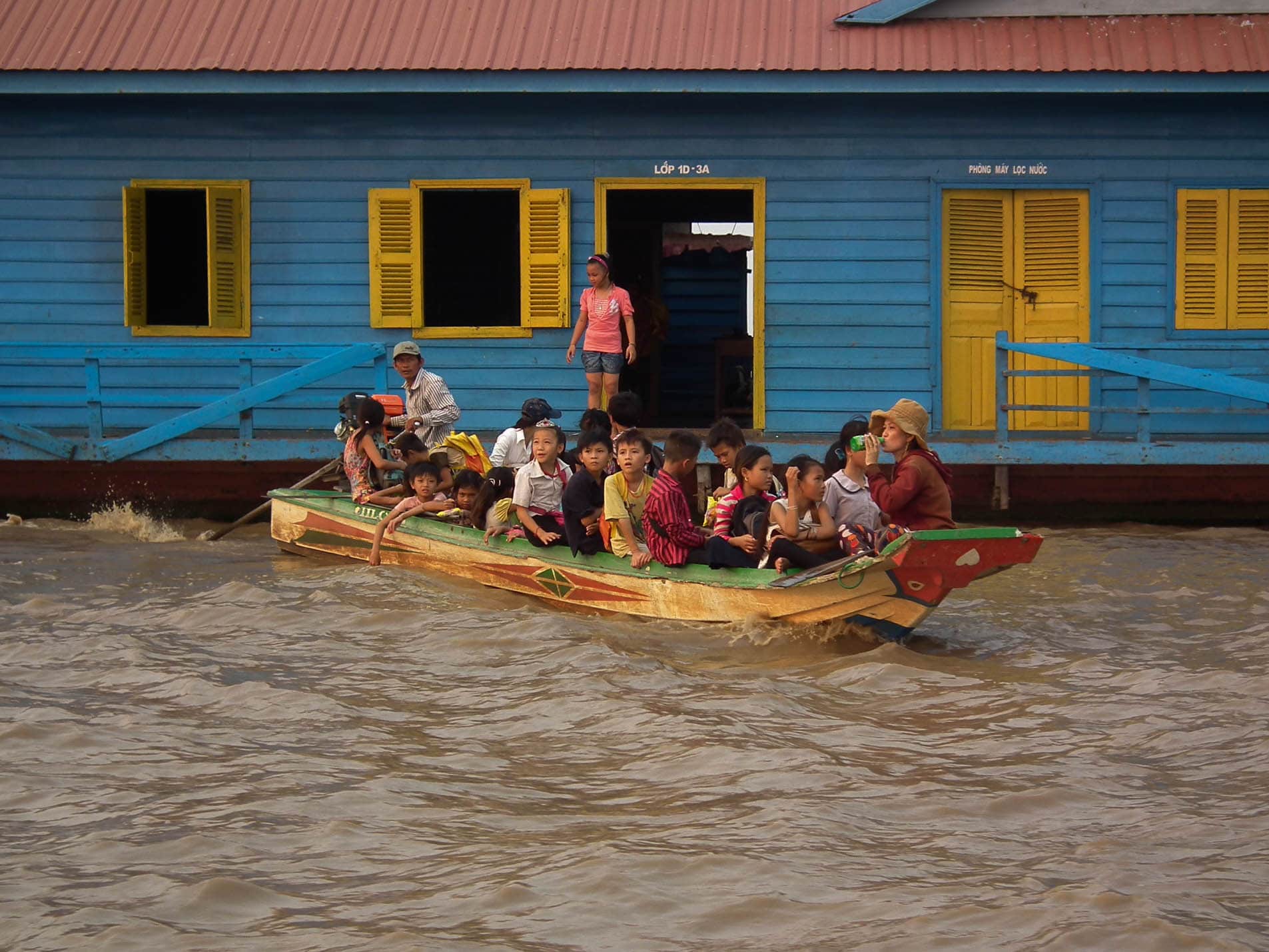 Visiting a floating village school is a favorite stop on some tours. We chose to avoid it. Here are our thoughts.
The Tonle Sap Experience does its best to provide guests with an authentic experience of life in the floating village. We hope that you get a real introduction to what life is like for Cambodians living on the Tonle Sap. We don't want the trip only to be sightseeing but also educational in nature. You will learn about Khmer culture, community life, day-to-day experiences, and other essential elements.
Part of this experience should involve learning about government education and the floating village school in the village. It is fascinating how they have adapted to the lake and much different experience than what you probably experienced growing up back home. You will learn that finishing school is challenging – there are logistical issues (needing to take a boat to get to the floating village school); out-of-pocket expenses (paying for teacher fees, school supplies); and family opportunity costs (by going to school instead of working to support your parents). We will talk about this in more detail on the tour and encourage you to ask questions.
While we want guests to learn about education as a whole, we are a bit concerned about students becoming tourist attractions themselves. More recently we have seen many tourists stop at the school with an untrained guide, interrupt class, take selfies with students, and then hand out candy or buy things for the students. This activity happens every 10 minutes which is very disruptive to student's studies.
This activity is recent years has also created a floating village school scam. Vendors are selling notebooks and snacks outside of the Kompong Phluk floating village school well above market cost. In Chong Kneas pushy drivers take tourists to a market where they are pressured to buy rice. The prices are exorbitant and there is no way to verify that the rice gets to the students. Many bloggers are reporting that the tour guides take the supplies back to the store and receive a commission. This scam is disconcerting and disheartening as it tears at tourists sympathies and leaves you feeling upset.
Because of these issues, we choose to take the boat past the floating village school boat. While we understand meeting students is an interesting experience we don't want them to be the tourist attraction or disrupt their studies. We also don't want to support or encourage aggressive vendors who have set up shop nearby.
While we don't go inside the school, we still pass by it. This allows you to see what the floating village school looks like on the lake and take photos of the building. The tour guide will also talk about education as well as their personal experiences learning in Cambodia.
If you have any questions about this policy, please feel free to email us or comment below. We are happy to chat more about our feelings and are always looking to improve our tours.
0